Lorenz Supply Company continually strives to provide our customers with the products, service, and solutions they need to exceed all their expectations.  It is important to us that our relationship consistently builds value with each person we do business with. Our goal is to be the best supplier of paper supplies, janitorial supplies, and cleaning equipment in the Mid-West.    Lorenz Supply Company has stood for quality products and service since 1946 and continues to build on that foundation year after year. The biggest key to our continued success is our team working together to successfully serve our customers.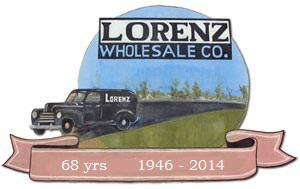 Ernie Lorenz
Founder
After returning to Mattoon, Illinois in 1946 from World War II, Ernie Lorenz assumed duties as an outside salesman for the Decatur Paper Company in Decatur, Illinois. Soon after, Ernie made the decision to embark as an entrepreneur, and Lorenz Wholesale Company was founded in March of 1946. Ernie's first purchase was mis-matched gloves from the glove factory in Effingham, Illinois.  He and his wife, Norie, sorted out pairs of gloves and filled the trunk of Ernie's car with them. Ernie went on the road the next day and began selling.
In 1946, there were twenty-eight independently owned neighborhood grocery stores and markets in Mattoon. Ernie began selling toothpaste, hair pins, school supplies, meat room and paper supply items to these locations. After serving the community for over 41 years, Ernie retired. Ernie still maintained an important role guiding the business to ensure continueous growth and prosperity.
Because of Ernie's early efforts and the tradition he established through his philosophy "that service is the most important thing in this business", Lorenz Supply Company has continued to widen its service area and now stocks over 3800  items consisting of paper products, janitorial supplies, and cleaning equipment.  Lorenz has proudly served our community and customers for a successful 71 years.